March 2014
In May 2014 I got a call from a fellow offering to buy a strange vehicle sitting on his premises - an electric car of unknown origins. He said if I pay a little money for it I can have it; otherwise he's going to junk it. He is in LA and I am in OR. Why did he called me, not someone locally? Long story short - he opens the hood and first thing he sees is a black box that says "BRUSA" on it. He Googles that word and voila! - my company, being distributor and support center for BRUSA Elektronik AG, promptly comes up on top. The guy emails me a few photos of the vehicle and offers to sell it for $1,000. Why not $500 or $5,000? Because the vehicle has got a steering wheel on the right hand side which, he said, makes it not legal to register and drive in the USA, so it is only good for parts. And how much are the parts worth? He said he searched for "BRUSA" and "NLG513 charger", and comes up with a $1000...
I know some right hand side vehicles are legal, after all every single postal van all over USA is right hand drive, not to mention some specialty or collectable cars. But I wouldn't want to to use it on public roads even if registering it would not be a hassle (this model technically is not crash tested in the USA). Besides, this car was offered to me on the condition that I will not attempt to register it with DMV, and the purchase is "for parts only", which was perfectly OK with me.
The car had "Better Place" sticker on it along with other symbols, such as swappable battery (still attached to the vehicle), and the battery was visible if you look underbody. That alone sealed the deal, but I wondered if I could negotiate price down, just for the sport. So I asked the fellow if the car is in running condition, and of course he told me that he could not even open the door with the new key fob, let alone "start" the car. The car was dead. I knew that this was most likely due to the aux. 12V battery being disconnected, missing or discharged. So I informed the fellow that in this condition, unless I can have it for $200, welcome to junk it. After a day of thinking and searching, he called back and offered it for $600, and that was the deal. A week later I drove to LA, rented U-Haul tow dolly, and brought the lucky find home. I have my own EV projects, so I did not intend to make this car drivable, but I couldn't resist the opportunity to look at electronics design and to reverse engineer its battery management system (aside from cannibalizing all usable hardware from it). And, of course, the OEM battery, AC drive system, charger, AirCon, DC/DC converter and other usual major components, all for just $600, were a nice bonus.
So the story behind this vehicle turned out to be quite interesting. Of course I knew very well what Better Place is (was), and what they built. This car has no identifiers on it, no name or model, but being in the business long enough, allowed me to quickly figure out what I had on my hands. This particular EV was Better Place's early prototype based on Nissan Qashqai 2007 meant for Australian market (branded there as Nissan Dualis). The car was shipped to the USA to get some work done on either its UQM drive system or A123's battery. It was built in Israel and shipped by sea. However, while it was in transit, the Better Place managed to go out of business! So the car arrives to the LA port and guess what - the branch of company that was suppose to receive the car no longer exists. No one claims it, no one wants to pay for international shipping and customs clearance, no owners can be found. So it is sitting in the back yard of the freight forwarder in LA for a full year until they get tired of it and were ready to junk this unclaimed hassle. That's when I got the call.
Towing from LA to Portland towing took 3 days and was uneventful.
Click on links on the left side and see the what the car consists of. Since this site is actually dedicated to the vehicle's battery management system which is of my professional and personal interest, unrelated mechanical and electrical design details will be kept to minimum.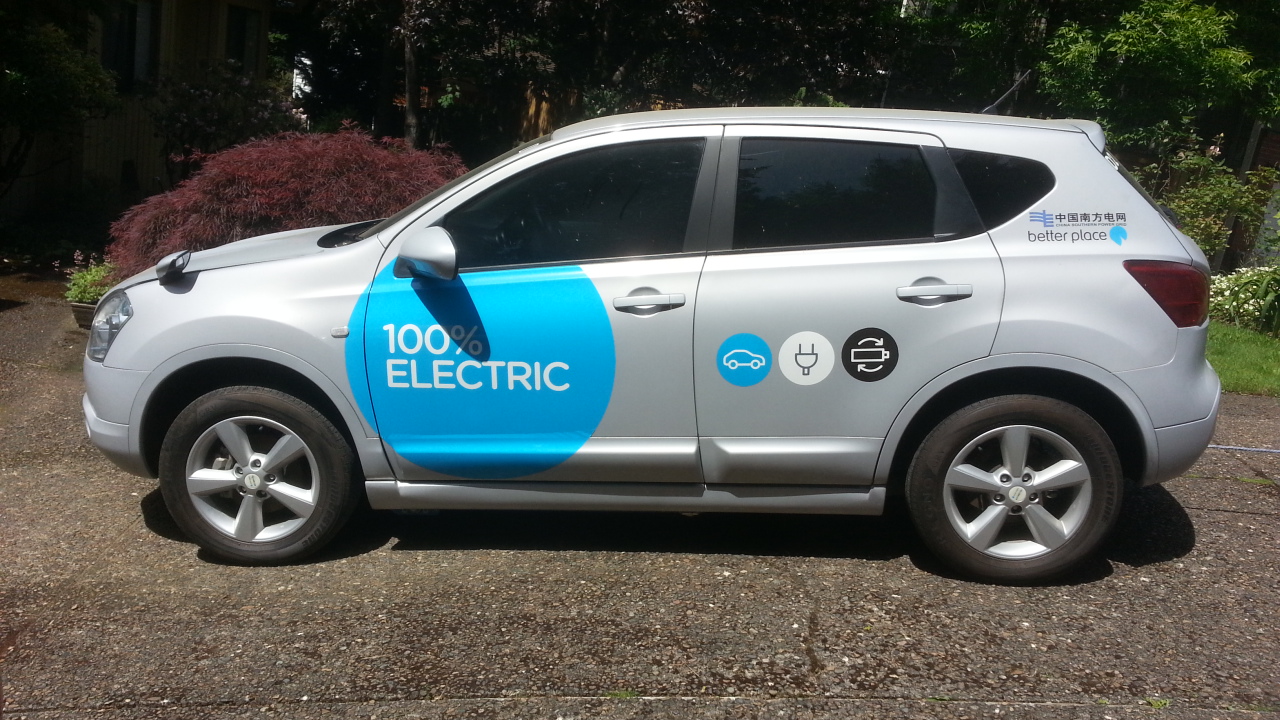 2007 Nissan Qashqai (Dualis in Australia) - Electric Car built by [former] Better Place in China for Australian and Israeli market.
---