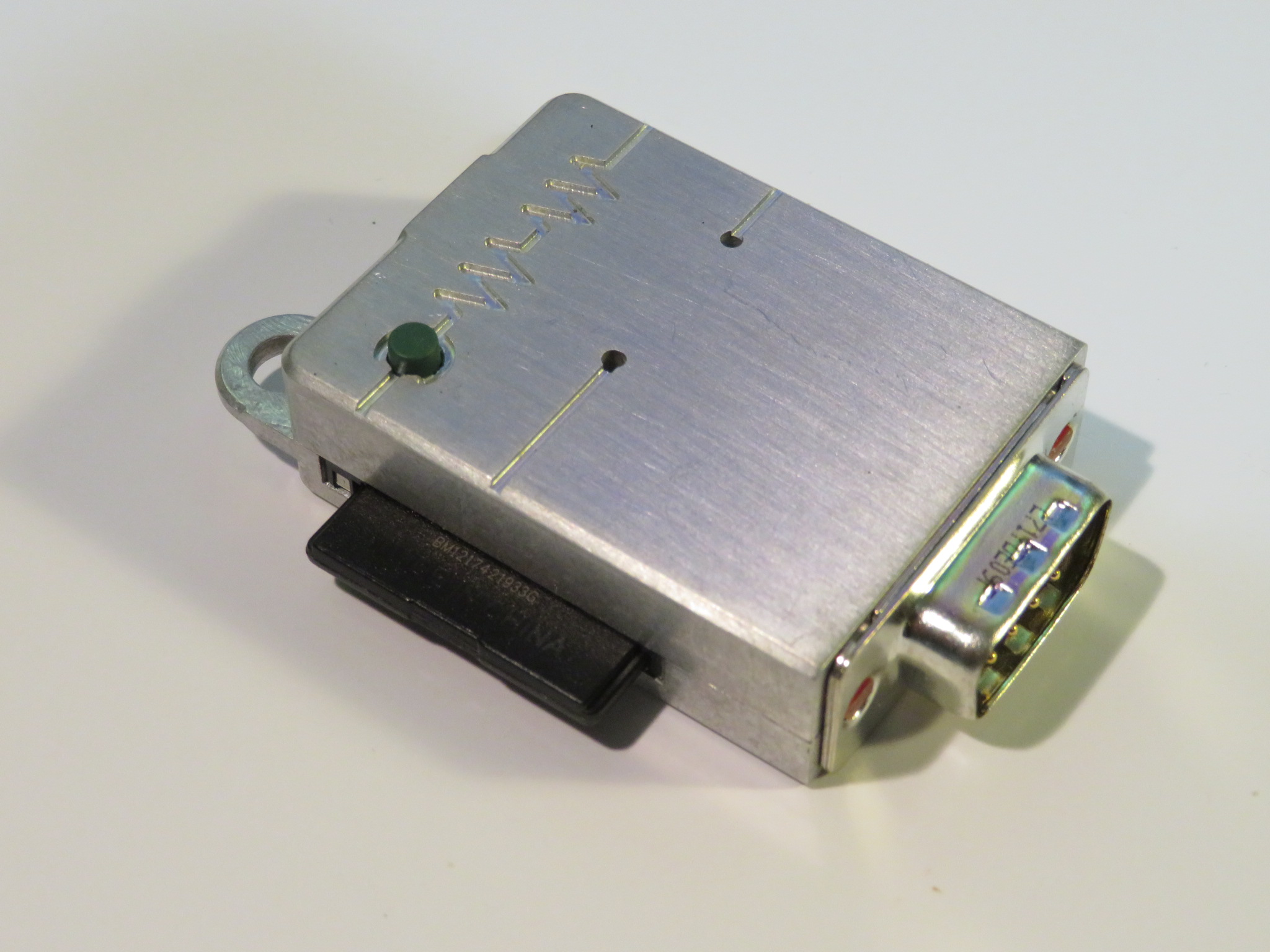 To the reader - this product has been designed in 2011. It was manufactured as EVision companion but could be use as stand alone serial datalogger storing generic info on an SD card. The cost of software development was never recovered, and it's been discontinued circa 2014. Electrical schematic of this datalogger is presented here, however, as for any former commercial product, the software is not freely available. All material of promotional nature presented here is from archives and intended to demonstrate one of my accomplishments as a hardware designer rather than to offer datalogger for sale. As of spring 2020 Metric Mind Corporation was transformed to Metric Mind Engineering focusing on consulting and development work, and no hardware is being sold.

Serial Datalogger II

Serial Datalogger is development of Metric Mind Corporation. It's a handy key-chain fob sized gadget meant to be connected either to EVision output or to any device streaming out serial data. It saves data in ASCII comma delimited format onto SD card.

The datalogger's hardware is very simple: it uses PIC24FJ64GB002 microcontroller at its core, and has only three other ICs: MAX3232 serial converter and two LDO voltage regulators. Overall dimensions of the PCB are 42mm x 30 mm (1.68" x 1.18"). The board is housed in machined aluminum case consisting in two halves. One button and two LEDs are user interface. There is no internal power source - the power comes either from EVision or external +5...9 VDC power source connected to pin 1 of DB9M connector, or from a PC over +5V USB connection during data transfer. Of course, saved data can also be read directly from SD card with any card reader.

Here are few photos of appearance and guts of the gadget and links to promotional material that use to accompany it.

You can download the User Manual for the datalogger

You can download electrical schematic in PDF format

You can download schematic and PCB layout in CIRCAD format.

For those of you who have never heard of CIRCAD, you can download gerbers you can import into any other CAD package of your choice.

.
You can email me

to: victor@metricmind.com